Aside from the exciting carnivals in Rio, Salvador Carnivals have always been a favorite with both locals and tourists. Salvador is the music capital of Bahia and is famous for the Axe, which is an Afro-Brazilian beat that is used all throughout the Salvador Carnival week. The Salvador Carnival is all about happiness which is why everyone is encouraged to join in the fun to celebrate of music, dance, and culture.
The history of the Salvador Carnival
The city of Salvador shows very strong African influences even amongst the locals living there.
The city even holds a record for having the largest street parties and was noted in the Guinness Book of World Records. One of things that distinguish Salvador from Rio is that Rio is known for its numerous Samba Schools while Salvador is popular for its large street parties. Aside from promoting happiness, the Salvador Carnival also establishes the 'Black Pride' which also promotes peace and brotherhood within the carnival. The 'Black Pride' celebrates the Mahatma and is promoted by the followers of Gandhi known as the Filhos de Gandhi or Sons of Gandhi.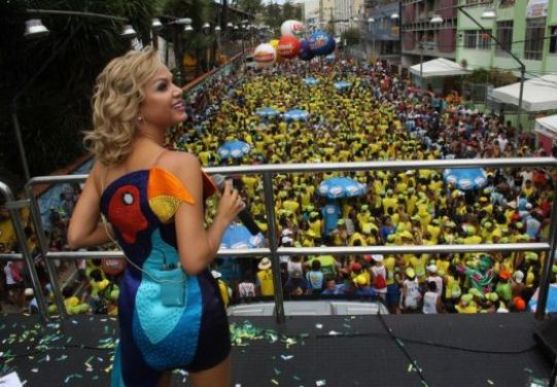 One characteristic that makes the Salvador Carnival worth watching are the awesome Bahian drummers that attract over 1 million tourists and locals to party, celebrate, and dance all throughout the celebration. There are 3 main circuits from which the blocos will parade through in Salvador. In these circuits special grandstands are built to give visitors a good view of the parade.
Tickets to these grandstands sell out quickly which is why it is always important to purchase your tickets early so you don't miss a seat. But if you don't get a ticket, you can still choose to dance along the route. It may be a bit tiring but this experience will introduce you to the city of Salvador for free. One of the best blocos performing at the Salvador carnival is the Trios Electricos.
You can join their bloco buy simply buying a T shirt. You can then sing and dance along with the group. Every year, the Salvador Carnival starts with the keys of the city given to King Momo. Bands such as the Psirico, Olodum, and Timbalada will perform alongside the Trios Electricos bloco. They are all famous for showcasing African flavor in their songs and performances. Each day of the carnival, visitors increase but the more people there are the happier and more energetic the carnival will be.
There are 3 main routes in the Salvador parade. The Batatinha Circuit proves to be the most family friendly circuit that promotes African culture. The other two, the Campo Grande and the Barra-Ondina circuits are best followed if you want to see the more exciting and thrilling part of the parade.