Watching the Rio Carnival, spectators may not think that the participants learned any parading etiquette judging from the sheer frenzy and passion out there on the street. But when you do volunteer to be a part of the samba performance, then you will learn a lot more about the do's and dont's about the annual festival.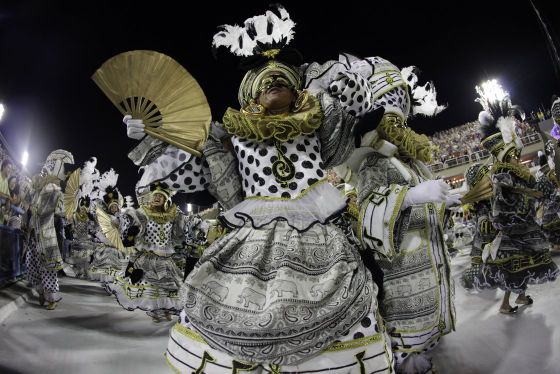 Bear in mind, the Carnival will not be as popular as it is today without everybody following some semblance of order or procedure.
Parading Etiquette List:
No. 1: Don't play with your costume Just like a new bride, you only try your costume for a moment before undressing and putting it somewhere safe.Unlike the superstitious belief with the bride wearing the new dress and the wedding not pushing through, the reason in this case is entirely practical. By constantly wearing your costume, you increase the chance of tearing it off or staining it. This could result to some point deduction or worse, disqualification.
No. 2: Never get drunk This is probably the most sensible parading etiquette.Alcohol may cloud your judgment, mess up your coordination and stink up the place.
Drinking will also decrease your stamina and you will need it if you have to dance for more than an hour under intense conditions. There's nothing more embarrassing than throwing up on the Sambadrome with millions watching. If caught, you might be barred from participating.
No. 3: Value your things Don't be too naïve as to leave your valuable things unattended when you participate in the samba parade. You can't bring your backpack with you so leave your passport, jewelry, cash and other valuables at the hotel. You are allowed to bring a small pouch to hide these things but parading etiquette requires you to properly hide it inside your costume.
No. 4: Knowing where to go Don't get left behind just because you didn't ask what the arrangement for transportation is in going to the Sambadrome on Carnival Sunday or Monday. There is usually a meeting place for all the participants. But if there's none, you can always take the subway, which is the most inexpensive way to go to the stadium. Parading etiquette, however, dictates that you should be at the Sambadrome two hours before the performance starts.
No. 5: The Parade Proper Now you are in the middle of the parade with hundreds of sweating bodies and thousands of spectators in the stands. It's quite an experience and you have all the right in the world to have fun. Keep in mind, however, that this is a competition and the samba schools, including the one you represent, are all vying to be crowned the champion.
Parading etiquette requires you to become a sales person because, in essense, you are selling the costume, the dance or the float. Always keep your smile even if you feel your feet are killing you. Sing along even if you may never fully understand the lyrics and sway your hips like your life depended on it. Important Parading Etiquette: Don't Forget to Have Fun Don't let all that pressure get to you.
The Carnival was created for the cariocas and visitors to indulge in a week-long party. Make sure to hydrate yourself, eat a lot of nutritious foods, do cardio exercises and warm up prior to the carnival proper. After all, the most important part of parading etiquette is for you not to fall down in exhaustion and dehydration.