The original Samba School, Deixa Falar, was founded in 1928. It used to meet near a children's school in Rio's Estacio district and was the origin of the name Samba School and is the prime among the many prerequisite Samba School elements.
Early Samba Schools
The oldest and well known Rio Samba schools, on top of the list, are Mangueira, Mocidade and Portela.
The Paraiso Samba school in Brazil is another early school founded by Esteves and Enrique Da Silva.
Rio's Best and Most Famous Institutions
Portela, Imperitriz, Uniao da Ilha, Beija-Flor, Porto da Pedra, Unidos da Tijuca, Mangueira, Vila Isabel, Salgueiro, Mocidade, Grande Rio and Sao Clemente are renowned Rio Samba Schools.
Samba School Elements in competition
Competition is fierce and schools practice endlessly, vying for the competition's top slot.
Each school has a specified theme to perform and each dancer has a precise role. The parade is meticulously planned and nothing is left to chance.
Points awarded by the judges at the Sambadrome competition determine the school score and position in the next year's parade.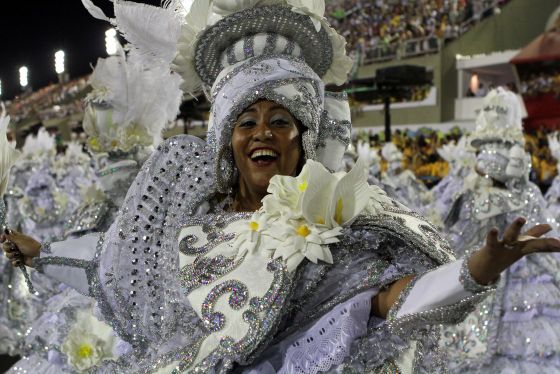 High points ensure a place in the leading groups. Schools with a lesser score perform in the minor groups. The contest is spread over the entire Carnival period on the Special Group.
Other schools contest on the Access or Gold Group for places in the Special group. The best six Samba schools of Special Group have the honor of performing at the Champions parade.
Important Samba School elements
They have two locations in the city. One is the Samba Hall or Dance Clubs with live Samba music played by percussion bands.
They are also the chief administrative centers and house the office of the school president. The second place is the Production Unit where floats and costumes are designed and manufactured.
From 2005 onwards, Rio's Special Group has one common manufacturing unit, known as the 'Samba City.' You must visit it to experience the great art and see the tremendous production process of, elaborate costumes, magnificent floats and other equipment required for the Rio Carnival.
Another basic principle of the schools is that they do no teach the Samba dance. They are not teaching organizations and do not conduct any classes. But you can still learn the Samba by attending the Samba Nights and observing the dancers.