Ash Wednesday, is the day of the announcement of results, and the best six teams come back to the Sambadrome to say goodbye to the exhilarated audience and present their top performance.
The atmosphere is hectic and the performances are brilliant, just like they would be on a Carnival Sunday or Monday. On that day, the winning teams can finally give expression to their triumphant spirit and passionate emotions, and relish the sweetness of their victory.
The seats are crowded with curious viewers and celebrities often intervene in the spectacle to give support to their preferred team. The show starts at 9 pm with the 6th runner launching the program and the Grand Champion closing it on early Sunday morning.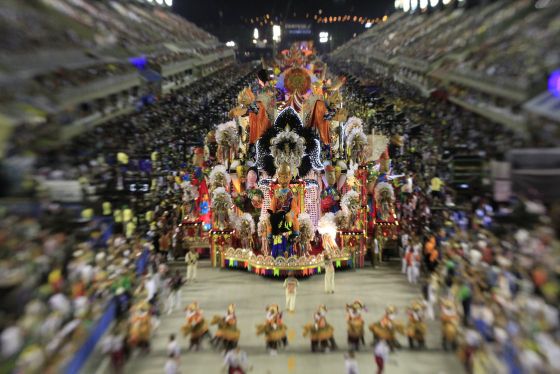 Tickets for the Champion's Parade are offered at a much lower price, in comparison to tickets for Carnival Sunday or Monday, although the grandeur of the spectacle is the same. However, cariocas attend the Champion's Parade to give support to their preferred samba school.
The Champion's Parade can be a tempting alternative to those who haven't had the chance to purchase tickets for Carnival Saturday or Sunday.
Also this day can be the best time to meet locals and share their uplifting carnival mood. Additionally, you can join one of the many festivities and processions, taking place in various parts around Rio. If your target is to attend this event at the Sambadromo, be aware that an early ticket purchase may be required.
The tickets are released just a week before the Carnival so that any misuse and black market distribution is discouraged.