Rio is indisputably a gay friendly city. The gay population dominates the city's colorful and exotic nightlife. Rio has numerous GLS bars and nightclubs with parties being held all year round. But at Carnival time the gay community's spectacular, hot and happening Rio circuit parties rival the street parties and samba parades. Here the samba is replaced with pounding 'Electronica' music.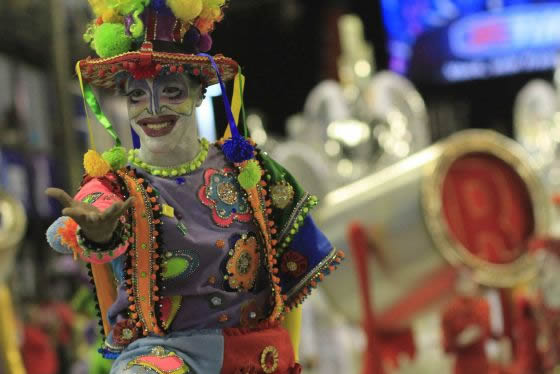 Famous international DJs, stars and drag shows perform and party hop at events hosted by hotels, dance clubs and other places. The excellent thing is that you need not book in advance for many of these events.
Circuit parties and Barbies
For over thirty years, Rio circuit parties played their role in the city's amusements and night life.
Tivoli Park near Lagoa turned into the party sector with DJs and live bands from around the world, setting the pace for frenetic festivities. These parties had no specific location, they were held in farmhouses, beaches, warehouses, and any place would do.
Overwhelming gay crowds attended these celebrations and the moniker 'label parties' was given to these gatherings. It was in 1990 that large circuit parties with X-Demente and B.I.T.C.H. (Barbies In Total Control here) commenced with their fan groups in two areas. Soon the gatherings multiplied and frenzied activity marked the carnival period.
Maxima is another one of the well known fabulous circuit parties held both in Sao Paulo and Rio. The biggest Rio circuit parties at present are Pool Party and R. Evolution.
Circuit Parties of all sizes
X-Demente has its circuit parties twice a month and you can join them on Saturdays at Fundicao Progresso. They have a large gay presence including celebrities like Ru Paul and Jeff Stryker.
However during the Carnival, party frequency increases. There is no dearth of ideas and during the week quite a few smaller parties are hosted. Planning to join the next great party when you are in Rio? Check the local newspapers and entertainment guides like O Globo and Jornal do Brasil for agendas under 'Festas' in the entertainment section.
GLS Clubs in Rio
A number of nightclubs in Ipanema, Copacabana and Leblon have become the favorite trawling haunts for Rio's fast growing gay community. Clubs range from elegant gentlemen clubs to exotic and erotic.
Rio's oldest gay club La Cueva caters to the classic gay and is definitely worth a visit. On the other hand, is Club Erotica, a strip club. Erotica also holds a special circuit party, the Buati, which runs houseful especially during the Carnival. Some of the trendy GLS clubs are Fosfobox and Bunker 94 in Copacabana.
Le Boy at Ipanema's southern point has a fantastic dance floor, great go-go boys and holds a lot of drag shows. An additional attraction is its gay bathhouse. A new entrant, The Week club located in downtown Rio offers wild weekend circuit parties.
How and Where to Locate the Best Gay Parties
News spreads fast regarding the most amazing Rio circuit parties at gay clubs and other spots.
Your gay pals will be more conversant and can keep you informed much earlier. Alternatively, don't be shy; ask the cute gay you may meet in Farme de Amoedo street or at a bar. Besides the local newspapers, Veja Rio has a list of gay club parties in its entertainment section. Posters and flyers are displayed and circulated in the boutiques of Copacabana, Ipanema and Leblon.
Other places in Ipanema for distribution of flyers and sale of tickets for gay circuit events are Posto 9 and Farme Gay.