You can't visit Rio de Janeiro without setting foot on two-mile long Copacabana beach, if only for the prestige alone. Along with Ipanema, it's the most recognizable beach in Brazil, and probably the most featured one in travel magazines and brochures.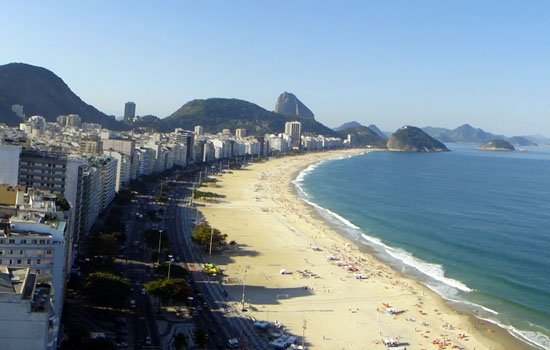 Even with diverse races and economic backgrounds of beach-goers here, you can sense that everybody is united with the same purpose of having fun. Parties and events are almost endless in Copacabana.
Sports and martial arts
When you go to Copa beach, expect to get a buzz. That's not only from watching the martial artists practicing the capoeira, a Brazilian art form known for its grace and power; or the number of water sports activities all around the area. The most important thing is alcohol here is pretty cheap. Just follow where the small bars are under a shade of big umbrellas. Make sure to try the caipirinhas, the national tropical drink of Brazil. You can also watch here cariocas play footvolley, a blend of football and volleyball.
Copa's top attractions
When dusk comes, the beach bars or 'barracas' immediately come to life. You can drink beer, cocktail or sip coffee while watching the mountains of Sugar Loaf and Corcovado. Don't forget to take souvenir shots at the famed Copacabana Palace Hotel. At the end of the beach, you can visit the military fortress which was preserved and transformed into a cultural center and museum. From the tower, you can see not just the stretch of white sands in Copacabana but Leblon and Ipanema beach as well.