The 1960s bossa nova song 'Girl from Ipanema' contributed a lot to the current name recall of the Rio neighborhood bearing the same name. The streets here are very organized, classified by a grid system, so it's not easy to get lost. The downside, however, is the high cost of living. But residents or even tourists would be the first to tell you that the money spent here is well worth it.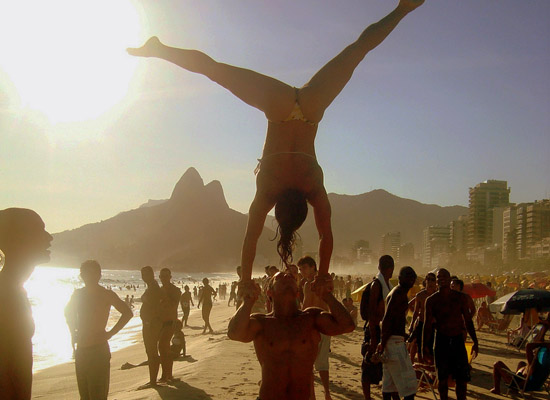 The first thing that comes to mind with Ipanema is the beach, but there are art houses, a university, cafes and retail shops here. Ipanema, by the way, originally means 'bad water' because it's not conducive for fishing.
Going around the beach
The mountains of Dois Irmãos loom over on the western side of the beach.
The waters are quite tranquil, and some are perfectly calm that make them safe for children to swim unsupervised. But the real action here is not off the coast, but in the sands. In all corners, you can see men and women playing football, volleyball, Frisbee and the footvolley, which is a unique blend of football and volleyball. During winter season, the waves can reach as high as nine feet tall, which are ideal for surfing. For the party scene, proceed to Lifeguard Post No. 9 or Posto Nove.
Spending weekends in Ipanema
During Sundays, you can watch martial artists performing the Brazilian Capoeira. This is because all vehicles are prohibited from passing through the road close to the beach. That means that closed road is brimming with cyclists, skateboarders, roller skaters and strolling locals and tourists.
The General Osario Park is converted into a Hippie Market on Sundays, although it goes by the more official-sounding name of Handicrafts and Arts Fair. Here you can find stalls selling handicrafts, souvenirs, snacks, accessories, clothes, textile knick-knacks, guitars, drums and other musical instruments.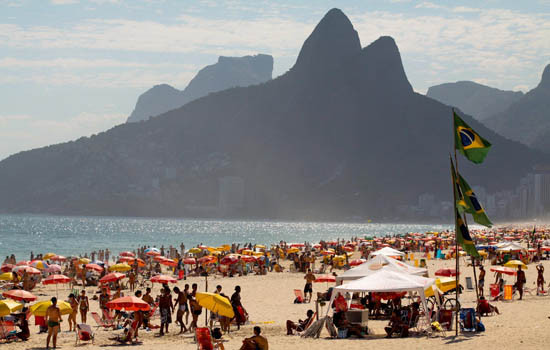 Before going home, this is a good place to drop by to purchase your tokens. If you intend to buy handicrafts, however, it's a good tip to visit Brazil & Cia stock handicrafts which promotes the work of local artists and tribes. Gilson Martins, meanwhile, sells unique handbags and wallets sourced locally.
Fashion capital of Rio?
The trendiest boutiques and clothing stores are said to have branches in Ipanema. Most of them are concentrated on Visconde de Piraja. But going by the fashion fads it helped promote over the years, this comes as no surprise. This is where the 'tanga' bikini was first popularized in the 1970s.
Tanga bikinis can be described as more modest than the thong. Brazilian model Gisele Bundchen's popular flip flops line was named after the beach. Interestingly, local celebrity Leila Diniz chose Ipanema to wear a bikini while fully pregnant.
Sprinkle a dash of culture, too
The best thing about Rio is the perfect blend of fun and learning. You can see this by the way some museums are located right within a park. A walking distance from the beach is the 'Galeria de Arte Ipanema' which mostly displays works of modern artists through exhibits.
You can also find Bolte de Arte here while The Amsterdam Sauer Museum is named after Frenchman Roger Sauer, a famous jeweler and gem expert, who chose to spend most of his life in Rio.
You can see on the exhibit his rare collections like Brazilian opaz and topaz stones endemic to Brazil.
Going around the neighborhood at night
You can walk around the neighborhood at night in relative safety. But you can't miss a trip to Garota de Ipanema right on the beach.
This is where Vinicius de Moraes and Tom Jobim saw the girl who became the inspiration for the song 'Girl from Ipanema.' Bar Londres is where you can rub elbows with celebrities, musicians and football players.
Head off to Baronneti, which is considered to be one of the top clubs in Rio. It has two dance floors which can get very full, very quickly. Barril 1800, meanwhile, has built a reputation for serving supposedly the best draught beer in town. Barril was voted at one point as one of the best bars.
An adventure of the palate
Fontes caters mostly to vegetarians. It is regarded as one of the very exclusive group that puts a spin on old favorites.
For Brazilian foods like feijoada and moqueca, the restaurant uses fresh and organic ingredients to make its own versions. For the sweet tooth, the Caffe e Gelateria Pier is a must-stop with over 40 flavors of Italian ice cream.
From the typical favorites to the more exotic such as the ice cream based on Brazil's official cocktail, the caipirinha, whisky chocolate and champagne.
Satyricon's popularity was raised to another level with pop superstar Madonna came in to dine. Esplanada Grill, meanwhile, serves scrumptious steak and fish dishes. But don't let this list limit you, just go where your feet—and probably your sense of smell—will take you.
Ipanema during the Carnival
Like the rest of Rio, the neighborhood goes crazy during the Carnival. One of the country's most famous street bands is the Banda de Ipanema.
The party goes on for three days and draws at least 15,000 drag queens, transvestites and straight men and women who love to drink booze and dance.
In contrast, the Bandinha da Ipanema is held at General Osorio Park and quite tame because its target demographic is the children.
Simpatia e Quase Amor is the largest street band in Rio. On Carnival Friday, when you pass by Casa de Feijoada restaurant, you can more than likely meet the Vem Ni Mim Que Eu Sou Facinha, which is small compared to the bigger street bands mentioned earlier.
Ipanema hotels
There are countless hotels, inns, and budget accommodations in Ipanema.
You can choose from a single bed, to mid-range and the pricey hotels. First, check with the Ipanema Plaza, Praia Ipanema, Ipanema Tower or the Visconti Residence which are considered as 'mid-range.' An added bonus is they are located downtown, near all the attractions.
If you have extra money and place premium on luxury, check in at Sofitel Rio Hotel which, although expensive, is supposed to be the best hotel in Rio.