Botafogo is an upper middle class neighborhood that is surrounded by the mounds of Mundo Novo, Dona Marta and the hills Morro de São João, which also borders the famous Copacabana.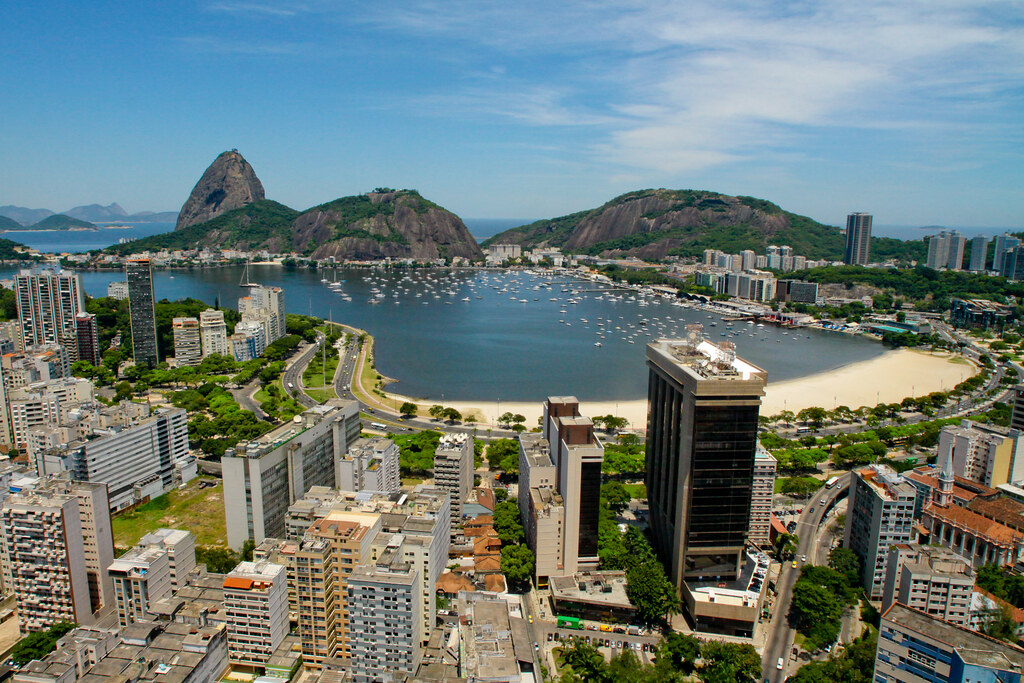 Its name is derived from Joao Pereira de Sousa Botafogo, the Portugues weapon-maker who owned, during colonial times, the land where it stands now. From its beachfront, you can have a good view of the Sugarloaf Mountain.
Blend between the old and new
Despite its countless condominiums and the apparent contemporary appearance, Botafogo is rich in culture and history. Take for instance the 'Museu do Indio,' with its 19th century architecture, which puts on exhibit the various artifacts of Brazil's tribal groups.
You can see on display the varied costumes, hunting tools, utensils, household equipment and even musical contraptions. There are also documents and books that describe what it was like to live during the ancient times. You can find another heritage site here, the Villa Lobos Museum. It's that distinct European-style building in Soracaba that can trace its beginnings in 1961 when it was ordered built by the wife of composer Heitor Villa Lobos.
In here you can find books, documents, photos, letters and sheets of music owned by the musician. Another museum dedicated to a great Brazilian is the 'Rui Barbosa.'
The building, featuring a neo-classical design, dates back to 1849. But Rui Barbosa, the legal expert, politician and one-time journalist called this his home before passing away in 1923.
Perfect for family trips
The beach of Botafogo is part of Guanabara Bay, protected from the Atlantic by Sugarloaf Mountain and Urca peninsula.
It's perfect for bringing along the kids as the ocean here is generally calm. Aside from the picturesque view, there are also cinemas, theatres, bistros, cafes and retail shops so there's always something to do.
A panoramic view
Take a cab for Pasmado point for panoramic picture of Botafogo. The best time to hike is at the crack of dawn, when the first rays of the sun sweep over Rio, and at sundown and see the buildings light up.
Nobody leaves the area without going to Pasmado. It's sort of tradition.
Spending Carnival in Botafogo
The neighborhood has its own street band called 'Barbas,' which literally means beard.
It is named after the wordsmith 'Nelson Rodrigues Filho.' Botafogo hosts its own parade on Carnival Saturday beginning at 'Rua Arnaldo Quintela.'
Be prepared to get wet, however, a water truck soaks revelers as they march on the streets.
Dining out
There's no lack of places to go here when you are hungry.
There's the 'Careme' which serves French dishes using non-chemical ingredients. The 'Yoruba' is popular for putting its own spin on Afro-Brazilian food.
Then you have the Portuguese bistro 'Adega do Valentim' which is known all over for its 'bolinhos do bacalhau,' an appetizer that is loosely translated as codfish balls.
Party in the house
You can mingle with locals and tourists alike in Casa da Matriz at Rua Henrique de Novaes.
Judging from its name, you can find the bar within a house. The mood here is laidback and the crowd quite young. It's open from Tuesday to Saturday from 11 p.m. onwards; although they also open on Sunday and Monday depending on schedule. As an added attraction, you can explore the rest of the house if you are tired of dancing. Whether swimming, shopping, hiking and dancing, you will certainly not regret going to Botafogo.