Copacabana, along with Ipanema, is perhaps Rio's most popular destination. The name recall is largely attributed to Barry Manilow's 1978 song, which interestingly was based on a New York nightclub and has nothing to do with Brazil.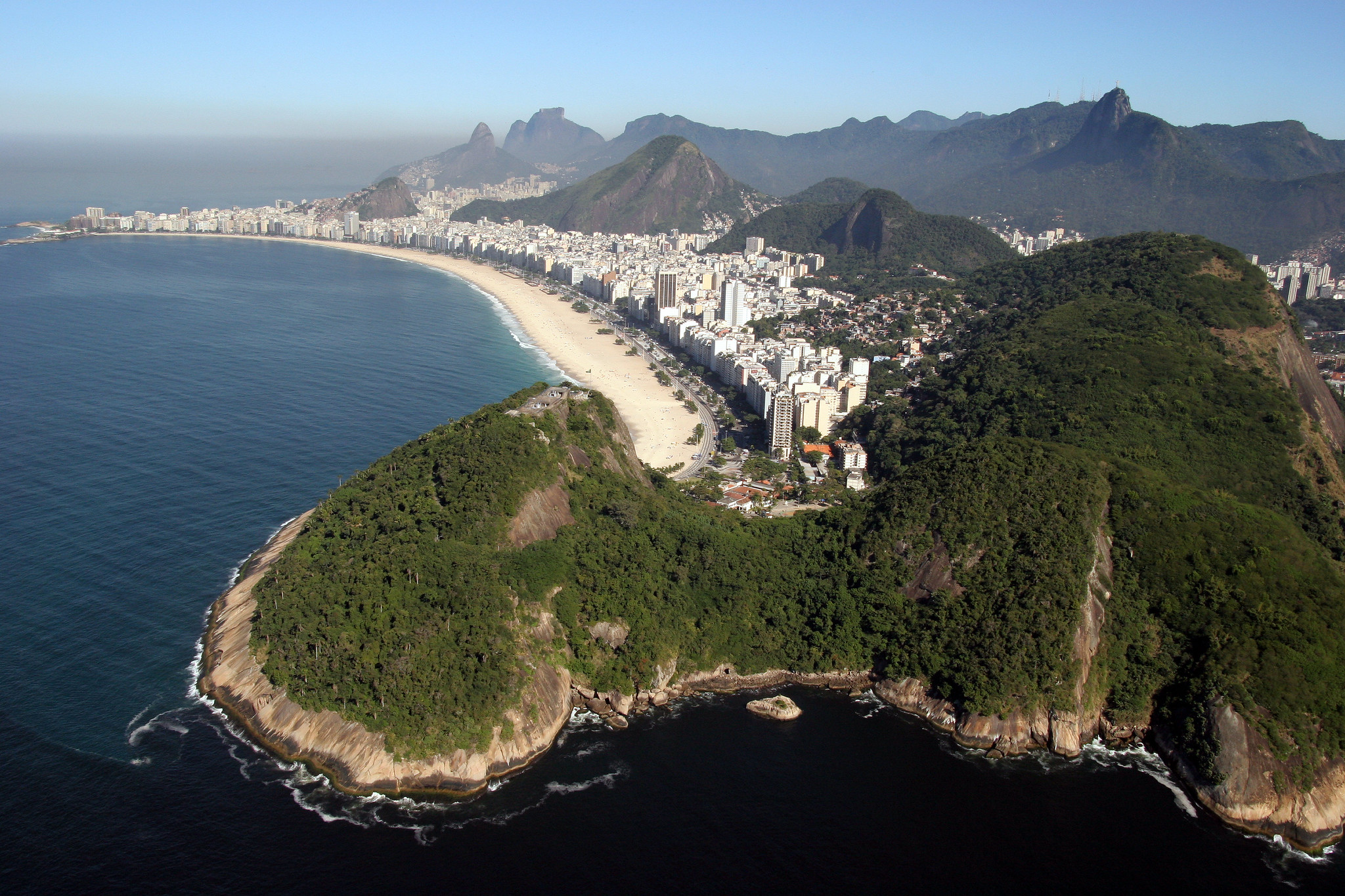 Although its beach in southern Rio only stretches to four kilometers, the density of people, hotels, kiosks, restaurants and bars is off the charts.
A true royalty
Dubbed the 'Princesinha do Mar' or Princess of the Sea originally for its splendor and purity, the beach today is brimming with swimmers throughout the year. Tourists love its white sand that contrast beautifully with the blue ocean.
The beach is also home to nationwide and even global beach sporting events like beach soccer or beach volleyball. Stroll along the promenade designed by landscape artist Roberto Burle Marx. There are plenty of snack bars and kiosks around if you are hungry or thirsty.
Welcoming the New Year at the beach
The laidback atmosphere of the beach immediately transforms into fever-pitch frenzy on New Year's Eve. It's not accurate to call it a party because greeting the New Year at Copacabana has become an event in itself, attracting hundreds of thousands from all over the world. Prepare to wear anything white according to local custom on the belief that it is the color of luck.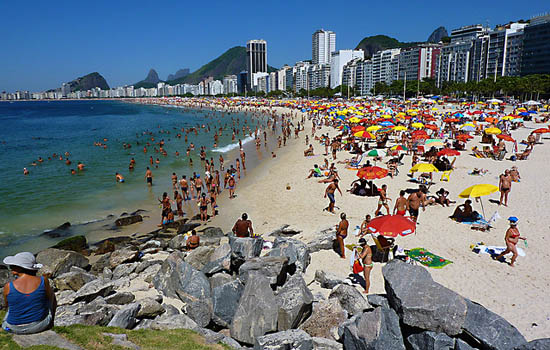 The color white is everywhere, from clothes, shoes, scarves to the white roses offered to Yemanja, the Sea Goddess. The event starts in the morning and ends well after the New Year. Rock legends The Rolling Stones as well as superstars Rod Stewart and Lenny Kravitz have performed here.
Historic hotel
The Copacabana Palace Hotel is one of the oldest in Rio and probably the most famous, judging from the names of its frequent regulars. Other famous personalities that have been billeted into the hotel include Queen Elizabeth, Walt Disney and Argentina's own, Eva Peron.
If you have money to burn, choose the penthouse and premier rooms since they offer a good observation point of the beach. Fred Astaire and Ginger Rogers at one point shot a film here titled 'Flying to Rio.'
Soak in a bit of culture
It's not all mindless fun in Copacabana when you can also learn a bit of history and culture.
Visit an art museum such as the Fundacao Eva Klabin Rappaport, named after its former resident—the famous collector Eva Klabin—which has an extensive collection from sculptures, rugs, silverware, paintings, and ornaments from Egypt, China and Greece. Fort de Copacabana, meanwhile, was a former infantry fortress starting in 1908 but has since been converted as a venue for cultural events.
Walk around the citadel and marvel at its reinforced walls and the old artilleries and cannons that can fire bullets reaching 23 kilometers. This is perfect if you don't like crowds. Bairro Peixoto is a neighborhood that offers an easy escape from the hustle and bustle of Copacabana.
It's a small neighborhood, with neo-colonial buildings no more than four-storeys high. Tall trees dot its streets providing a much-needed canopy. You can see joggers or kids running around its gardens. The elderly love the place as they can laze about in virtual safety.
Fisherman's Corner gives a glimpse of the old way of living in Copacabana, when fishing was the main livelihood. Today, fishermen can still be seen working on their nets. Seafood is abundant here and can be bought for cheap.
When dusk comes in Copacabana
For most people in this part of Rio, dusk is the time when life truly begins. When they work throughout the day, night is when they can let their hair loose.
The Fosfobox Nightclub is a fairly young establishment which is dedicated to electronica and multi-hued cocktails. Bunker 94, meanwhile, is still popular even if it's one of the oldest. Rio is a very tolerant city so you can find gay clubs all over. Copacabana is no exception with the Le boy and La girl, which is located just adjacent to Bunker 94. Copa Gay is also another gay-friendly disco establishment where you can try an assortment of drinks. The Mariuzinn, meanwhile, is where you can dance the salsa to your heart's content.
If you don't dance, perhaps you can even find someone to teach you how.
Where the 'Magic' happens
The Copacabana Palace Hotel plays host yearly to the 'Magic Ball,' which has become one of the most popular events during the Rio Carnival. Here, you can mingle with the rich and famous who are equally basking in the delight of spending the night with wild abandon.
There's a dress code, though, and that usually means black tie or evening dress. You can come in a costume but it should be extraordinary. Among the most known street bands here is the Monobloco, which performs the week after the Carnival.
Rancho Flor do Sereno typically performs on Carnival Monday. The route is pre-determined but you can wait at Avenida Atlantica to catch them. Bip-bip and Shore Carnival are smaller bands that perform at a local bar.
Dine out or order in?
You can order in from your hotel but where's the fun in that? There are a lot of kiosks, bistros, restaurants to suit each budget and taste.
The Italian restaurant, Don Camillo, is known for its thin and crusty pizzas. A live band also sets the mood with Italian music. Try the 'moqueca de siri' at the Siri Mole Brazilian restaurant, which is described by gastronomists as a 'Bahian stew' or a mixture of coconut milk and seafood.
You can have a choice between squid, fish, lobster or the house specialty, the siri mole crab. Another must-try restaurant is 'Bakers.' It has a wide range of choices for pies, cookies, cakes and pastries. Although it also offers Italian and American sandwiches for take-out or dine-in.
The Le Saint Honore restaurant has received accolades from food critics for serving the most delectable French-Brazilian gourmet dishes. Try their fried lamb fillet or different variations of the 'surubim,' a type of American catfish. The restaurant is a great venue for a romantic night out because of its atmosphere and mood.
The imposing 37-storey-tall Le Meridien Hotel in Copacabana also has a great restaurant.