Centro-Lapa area is considered the historical and cultural hub of Rio. First a distinction, Centro or simply downtown is considered the financial hub of Rio de Janeiro.
You can find multinationals like power company Eletrobas, mining firm Vale and the state-run Pertrobas here. Lapa, meanwhile, is a trendy district within Centro bairros.
Get lost in the past
If Centro-Lapa is the cultural center, the 'National History Museum,' is its heart. The institution is one of the best museums in Rio, with over 250,000 antiquities that chronicle Brazil's rich history. The 'Museu de Arte Moderna' or the Museum of Modern Art is also located here. Although it was damaged in 1978, there are 11,000 specimens that include the opus of Maria Martins and Bruno Giorgi. Film fests and photo exhibits are regularly held here. What is now known as the cultural center in Centro-Lapa used to be the head office of the Bank of Brazil.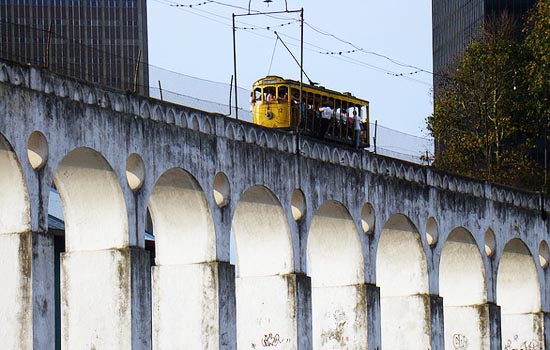 The 'Centro Cultural do Banco do Brasil' is very distinct structure because of its dome building. It has three theatres, two auditoriums, bookstore and video hall. It also has a restaurant and coffee shop if you get hungry in the middle of the tour. 'The Navy Cultural Center' is an institution that caters to naval history. Historic buffs and will have a heyday looking at all its models of ships used during wartime, which are accurate down to the last bolt. A WWII destroyer sits outside the center along with a 1970s submarine.
A memento of its Colonial history
All around Brazil, you can see glimpses for when it was subjugated and converted to Christianity. No more so than in Rio, where you can find countless churches with well-defined architecture.
In Centro-Lapa, visit 'Igreja Nossa Senhora da Candelaria,' which was reported constructed following a sea miracle on the ship 'Candelaria.' The church is constructed out of Italian marble, glass and bronze. Rio's oldest church, 'The Convento de Santo Antonio,' can also be found here.
Founded in 1620, the church features marble icons and ceiling murals. Then you have the 'Catedral de Sao Sebastiao do Rio de Janeiro.' Also known as Catedral Metropolitana, it's known for its colossal stained-glass windows that envelop the whole building—a great leap in Brazilian architecture. The Archbishop calls this his home.
Praca XV: the historical square
At the old esplanade in Centro-Lapa, you can find Praca XV.
Regarded as Rio's historical square, this is where colonial emperors and governors resided. This is also where Brazil as a nation was born on Nov. 15, 1889. Here, you can find the Paco (palace) Imperial which can trace its origins in 1743 and now Rio's oldest building.
Portuguese emperor Dom Jao lived here after he was banished by Napoleon. It was also in this ara when Princess Isabel announced to abolish slavery in 1888. Today, Paco Imperial is home to modern art pieces and ancient weapons. Beside the palace is Brazil's legislative assembly, 'The Tiradentes Palace.' You will also fund an effigy of Joaquim Jose da Silva Xavier, a key contributor to the revolution.
Like page out of Disney's
Looking at the Ilha Fiscal Palace off the Bay of Guanabara is like being stuck in a time warp. Adolfo del Vecchio's design—featuring elaborate columns, massive spires and arched ribs—is straight out of a fairy tale. Originally a port office, the palace hosted the final ceremony before Brazil became a republic.
Of melodies and words
If you are a music or book lover, you will appreciate the diverse collection offered by Centro-Lapa, from classic samba to modern pop.
If you are lucky enough, you can even scour for old gems from Brazil's musical past. 'Casa Oliveira' is popular because it sells albums featuring the rhythm section of the Carnival. 'The Berinjela' also sells rare samba albums. Aside from albums, you can buy different musical instruments in the area.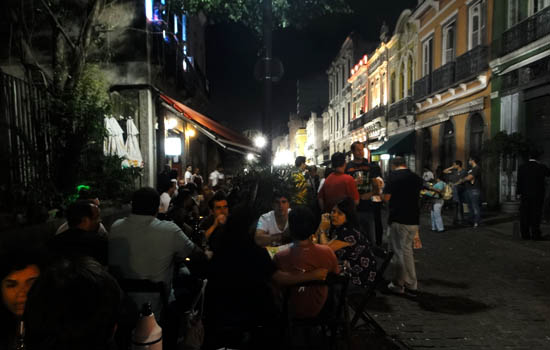 Bibliophiles will surely love 'Livraria Rio Antigo' over at 'Rua do Rosario' which deals in rare and old books. The 75-year-old store holds auctions for unique items regularly. 'The Livraria Leonardo da Vinci' has an extensive collection of foreign books, photography and books about painting, sculpture or graphic arts. 'Livraria Imperial' sells not just books but also music records.
Bistros and cafeterias
Centro-Lapa is host to numerous eateries, buffets and restaurants, such as the 'Cais do Oriente.' Rising from a 19th century depot, it specializes in Mediterranean and Eastern cuisines. Diners are treated to mood music in the background which can relieve all stress and worries.
The restaurant is looking for that old romantic look from the way wood, bricks and hand-woven fiber are meshed together. Eating here can get quite expensive though. The 'Confeitaria Colombo' in Centro-Lapa was started in 1894 but it still stayed true to its original purpose.
From its Victorian architecture, premium service and that old-world charm, the only difference is the clients it serves. It has the most diverse collection of pastries and confectioneries in Rio.
The 'Via Sete Grelhados' is a restaurant that serves fast, good food.
Doing your festival shopping
If you are looking for bargains, you're in luck. At 'Rua Alfandega,' in what is known as the Saara, you can find everything you can think of.
If planning to attend the Carnival, make a schedule to visit this place in Centro-Lapa where you can purchase costumes, masks and accessories. Spending a few hours just isn't possible because of the vibrancy and energy of the place. But if you want to embellish your Carnival costume, go to 'Casa Turuna' in Centrol Lapa.
Established in 1920, this specialty shop sells everything from headdresses, feathers, sequins, beads. Casa Turuna also sells textile and fabrics if you want to go crazy by making your own costume.
Centro-Lapa: a nucleus of activity
If you think the neighborhood is already a bustle of activity,
just wait during the Carnival when it transforms into a whole different animal. The Praca Onze railroad station comes alive as the Sambaland becomes the party center of the district.
The Carnival, in fact, is officially opened at Praca Onze as King Momo is handed the key to the city. During the Carnival, live bands, street parties, and spontaneous dancing are the norm and Centro-Lapa is in the center of it all.